Work in progress - last updated September 27, 2022
Good governance is more than a board meeting, it requires good communication.
This guide is intended to help you use Loomio in your board or committee, so you can stay connected between meetings, deal with urgent matters and reduce board admin.
Continue governance between meetings
Use board meetings for issues that matter
Keep a detailed record
Loomio is a versatile discussion and decision-making tool for collaborative boards and committees.
Following are some examples of common practices of boards and committees, and how to apply these in Loomio.
Administration and record keeping
Rahul walks through a demo of Loomio for a board.
Originally recorded as part of the online Governance forum hosted by the Office of the Registrar of Indigenous Corporations (ORIC), Australia. 30 November 2021.
Effective meetings are productive, inclusive, and collaborative - they improve engagement, help build strong relationships, establish alignment, make better and faster decisions, promote inclusion, facilitate creative thinking and innovation, are a great channel for feedback and continuous improvement.
Use Loomio to plan an effective meeting; involve people from the outset, align towards the most important topics, and make better use of your precious time together.
There are several things you can do to make your next board or committee meeting effective...
Establish a focus for the meeting, so you spend your precious time together talking about the most important topics.
Inviting members to contribute to the agenda helps everyone align, think about topics and energize for the meeting.
Actions:
focus the meeting on the most important things,
follow up and talk to members about actions from previous meetings.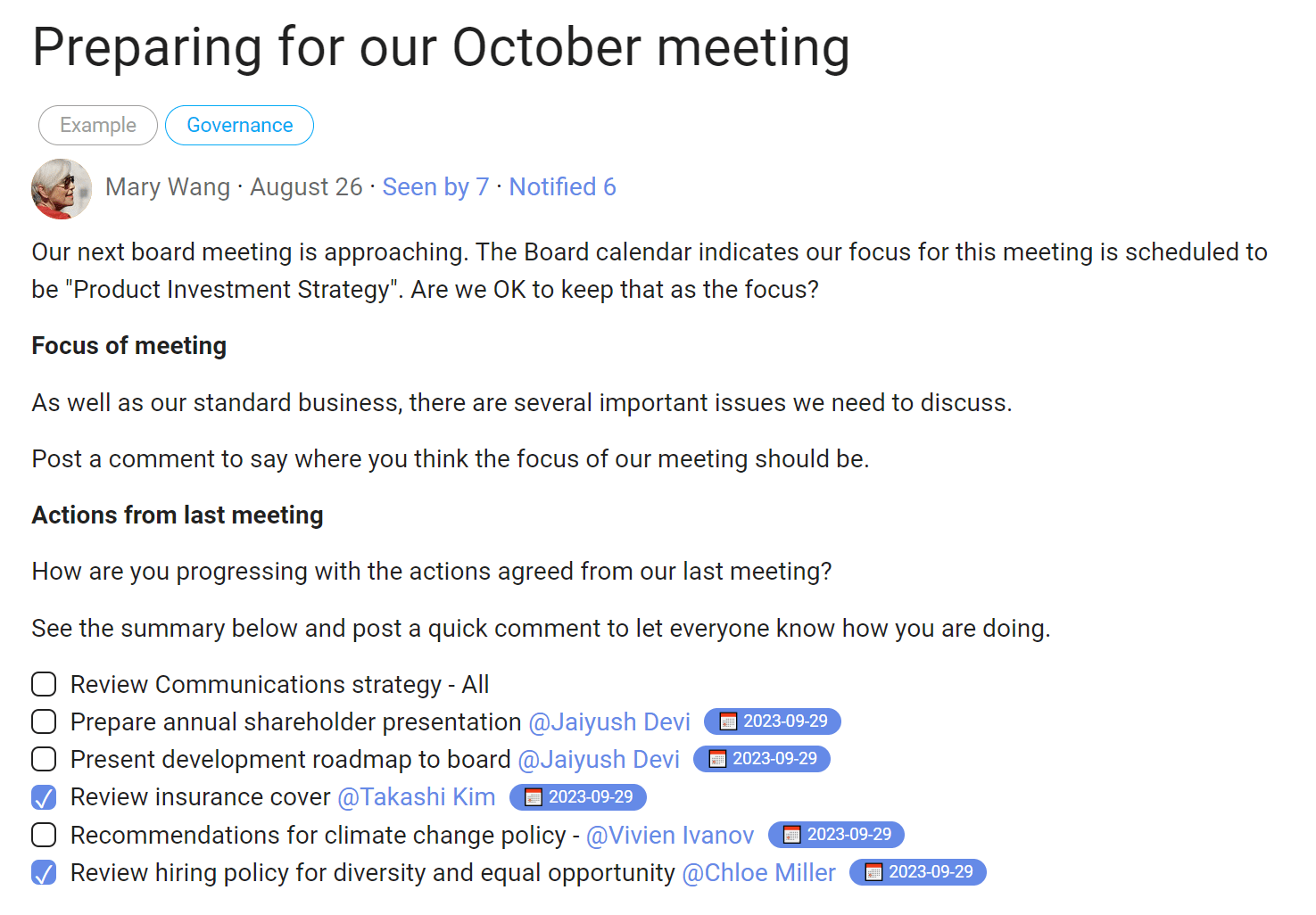 Use a Loomio Thread to prepare for your meeting:
remind members about the meeting coming up,
invite comment about the most important things to focus on,
summarize actions from the previous meeting and ask for an update.
Announce the meeting with a clear agenda. Attach papers, link to key documents and notify members.
This helps everyone prepare for the meeting, by reading the materials and thinking about topics of discussion and the decisions to be made. Members are then more likely to arrive in context and ready for the meeting.
Actions:
prepare agenda, documents, materials and board papers,
notify members of meeting and send materials.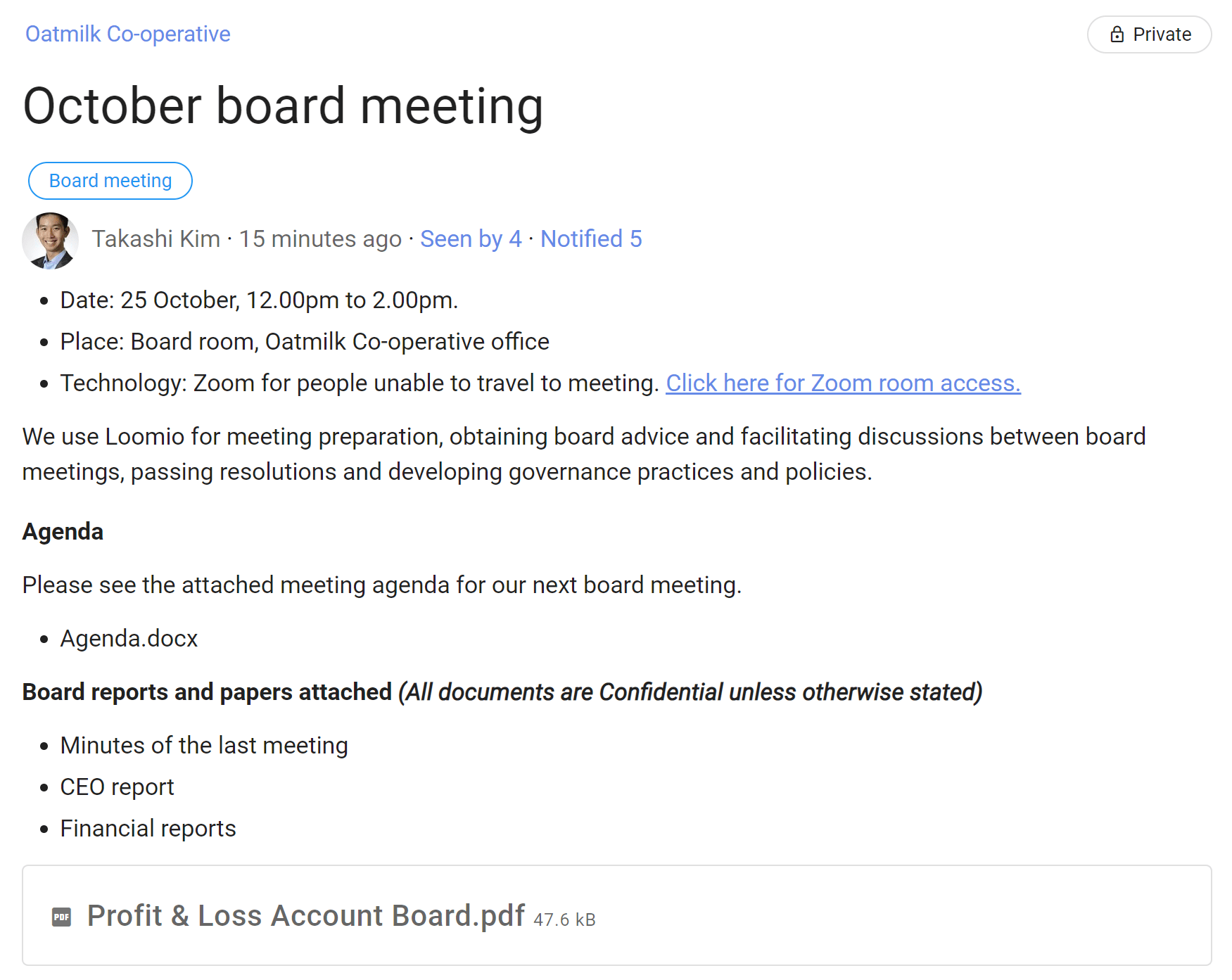 Use a Loomio Thread to prepare for your board meeting:
state details of meeting,
attach or link agenda, documents and other meeting materials,
invite members with a notification,
monitor 'Seen by' to see who has read the thread.
While similar to sending an email, a Loomio thread has advantages:
you can see who has read the thread, and remind those who haven't,
member replies or comments are visible to everyone who has permission to view the thread,
any discussion or questions about the agenda or meeting materials is held in a single place.
Members can find all the information about the meeting readily available in one place, thereby avoiding confusing email chains and losing important info in their email inbox.
A great way to confirm everyone is prepared for the meeting is to use an Opt-in poll. Ask people to confirm they have read the agenda and meeting papers, and are coming to the meeting.
A Loomio poll lets everyone know that something is happening and their response is required. It adds that extra level of participation and an encouragement to read and prepare for the meeting. Members can also leave a comment when responding.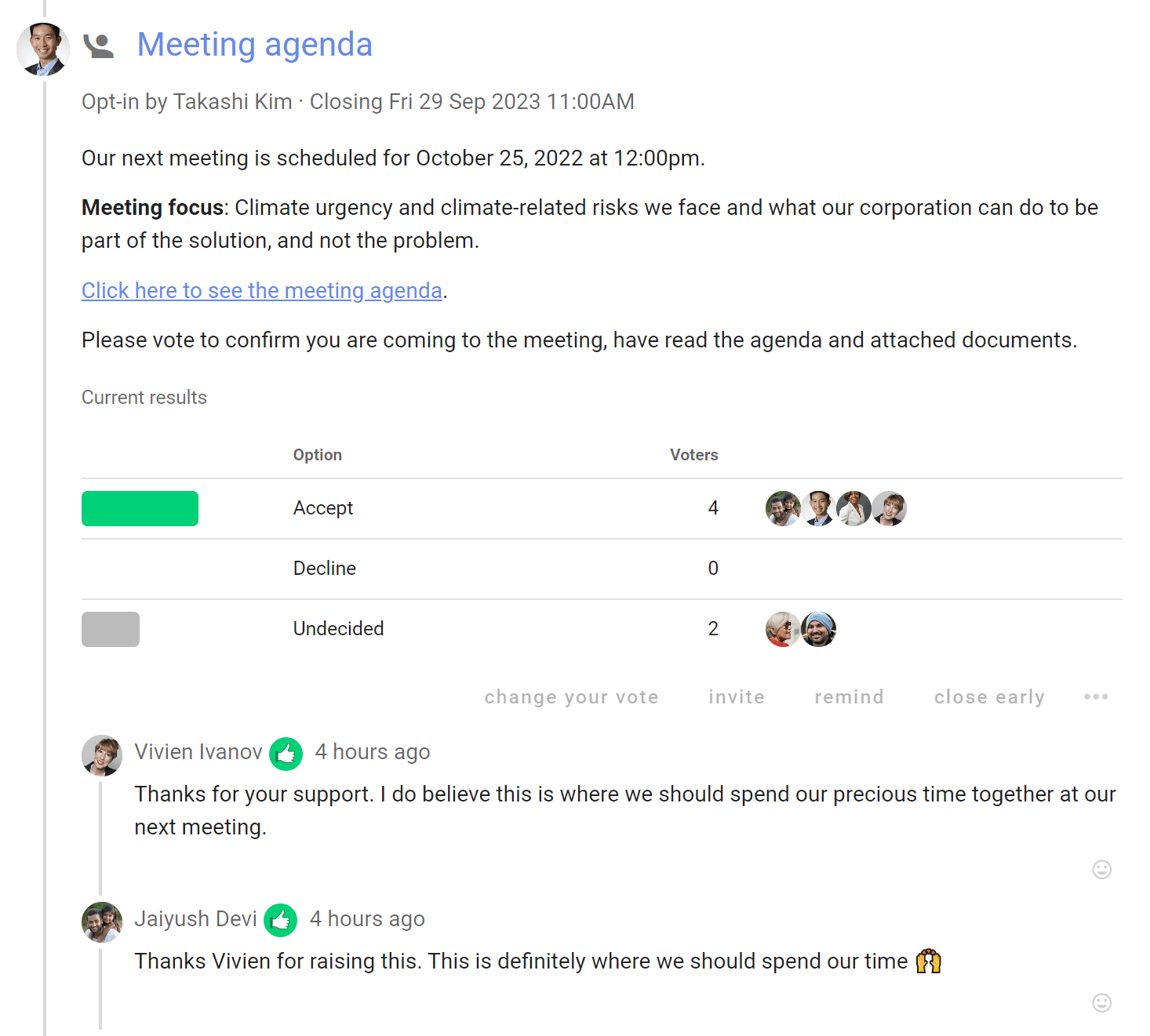 Finding a time to meet can be a frequent headache for many administrators.
If you have not yet set a date and time for the meeting or you need to find a time for a future meeting, you can use Time poll.
Time poll makes it easy to see everyone's availability and find the best time, reducing time and energy needed for this common admin task.
Members in different time zones will see dates and times localized in their time zone.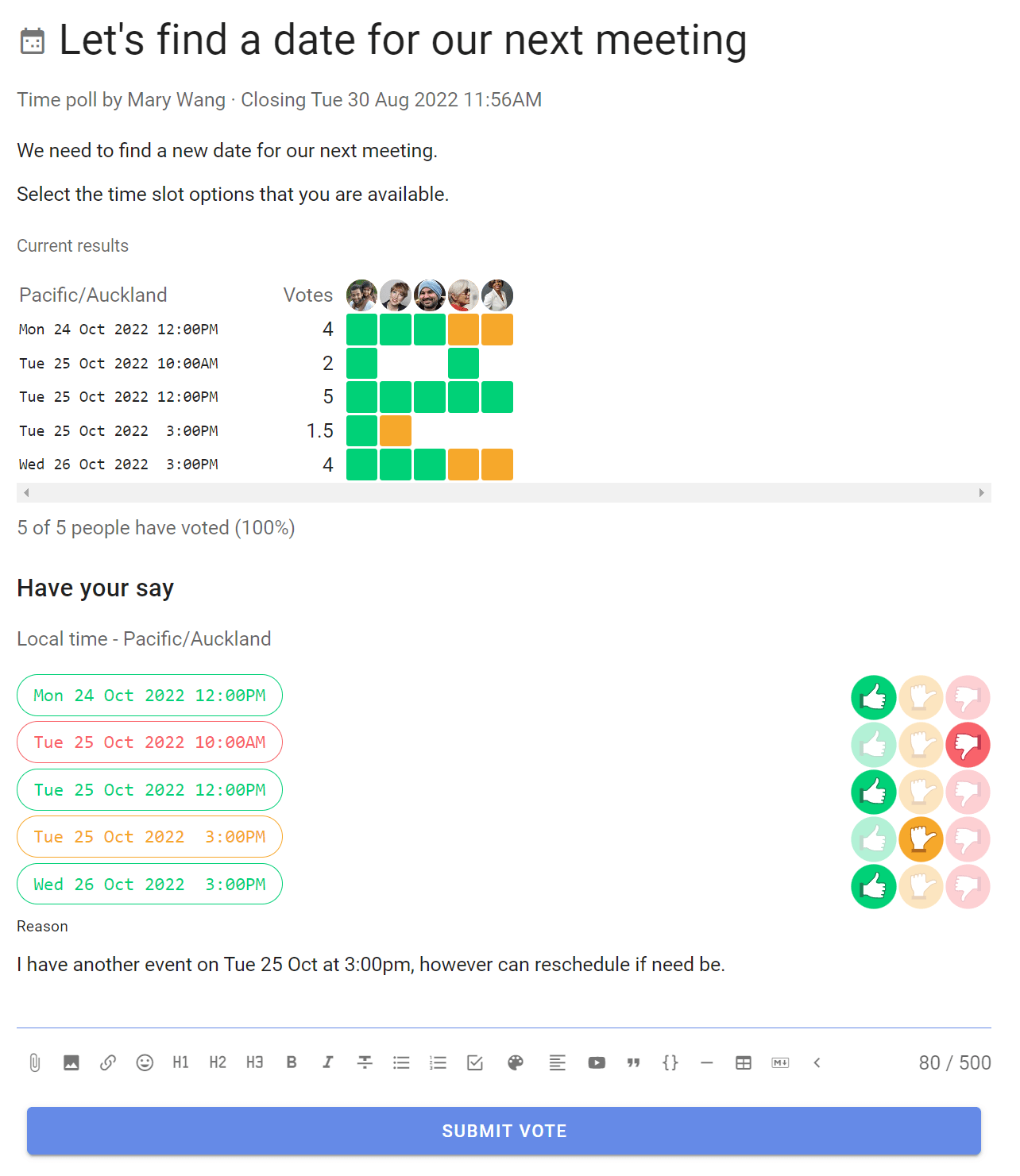 When the Time poll closes, choose the best time and send an outcome notification with a calendar invitation, so members can add the meeting to their calendar.
Approving or ratifying minutes is standard practice for formal meetings and good practice for all meetings.
Minutes provide a record of the meeting, key points raised during discussion, results of decisions and how people voted. They include the actions agreed and the person(s) responsible, and are often the starting point for the next meeting.
Minutes are valuable as a reminder for people present, helpful for those absent and a record to consult in case of conflict.
Post the minutes in the Loomio meeting thread within a few days of the meeting and invite participants to approve. This keeps the minutes relevant and fresh in member's minds and is a great way to remind members of their actions. It also saves some time during your meeting.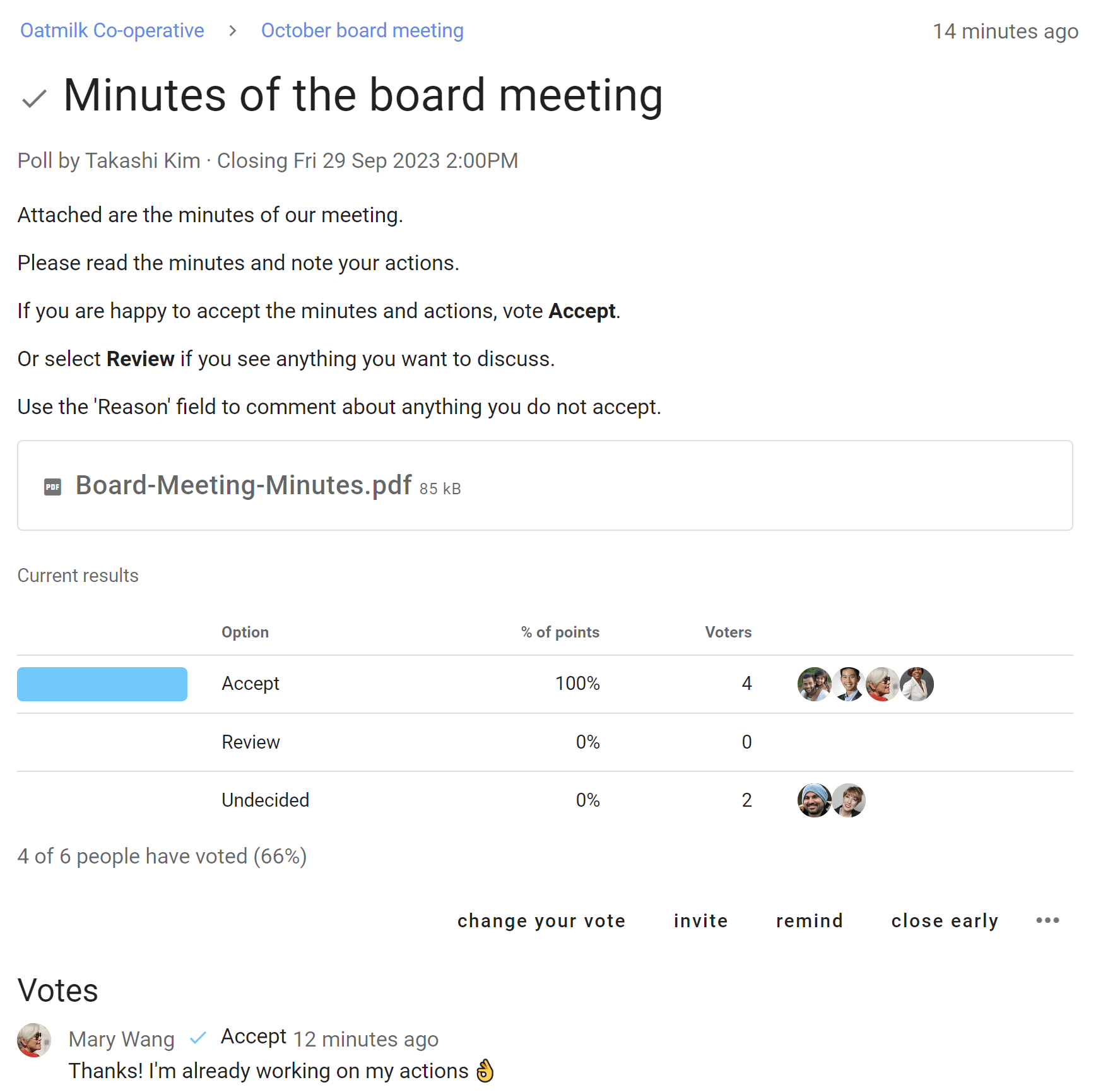 The example above uses a Simple poll with two options 'Accept' or 'Review'.
When everyone has voted and the poll closes, state an outcome so everyone knows what has happened.
If your meeting practice requires formal acceptance at the next meeting, schedule an agenda item to acknowledge and confirm polls and decisions made on Loomio, and record this in the meeting minutes.
For example; "Does anyone wish to change their votes in Loomio? If no, then let's resolve to formally approve polls made in Loomio during the last period."
Most meeting agendas include time for reports to be presented, discussed and approved; for example reports from the CEO, Financial, Operations, Health & Safety, and project reports.
Reports are very important to help everyone get on the same page, however they can absorb valuable time in a meeting that may be used more effectively.
Attach or link reports to your meeting thread and invite questions about the reports in advance of the meeting.
Members receive and read the reports at a time and place that works for them. As members read and think about the reports, they can comment, ask questions and see responses in Loomio.
A question asked by one member is likely of interest to other members, so when someone replies to the question, their response is visible to everyone in the Loomio group.
As members become familiar with discussing reports in Loomio, save a little more time by taking it a step further - seek approval of reports ahead of the meeting.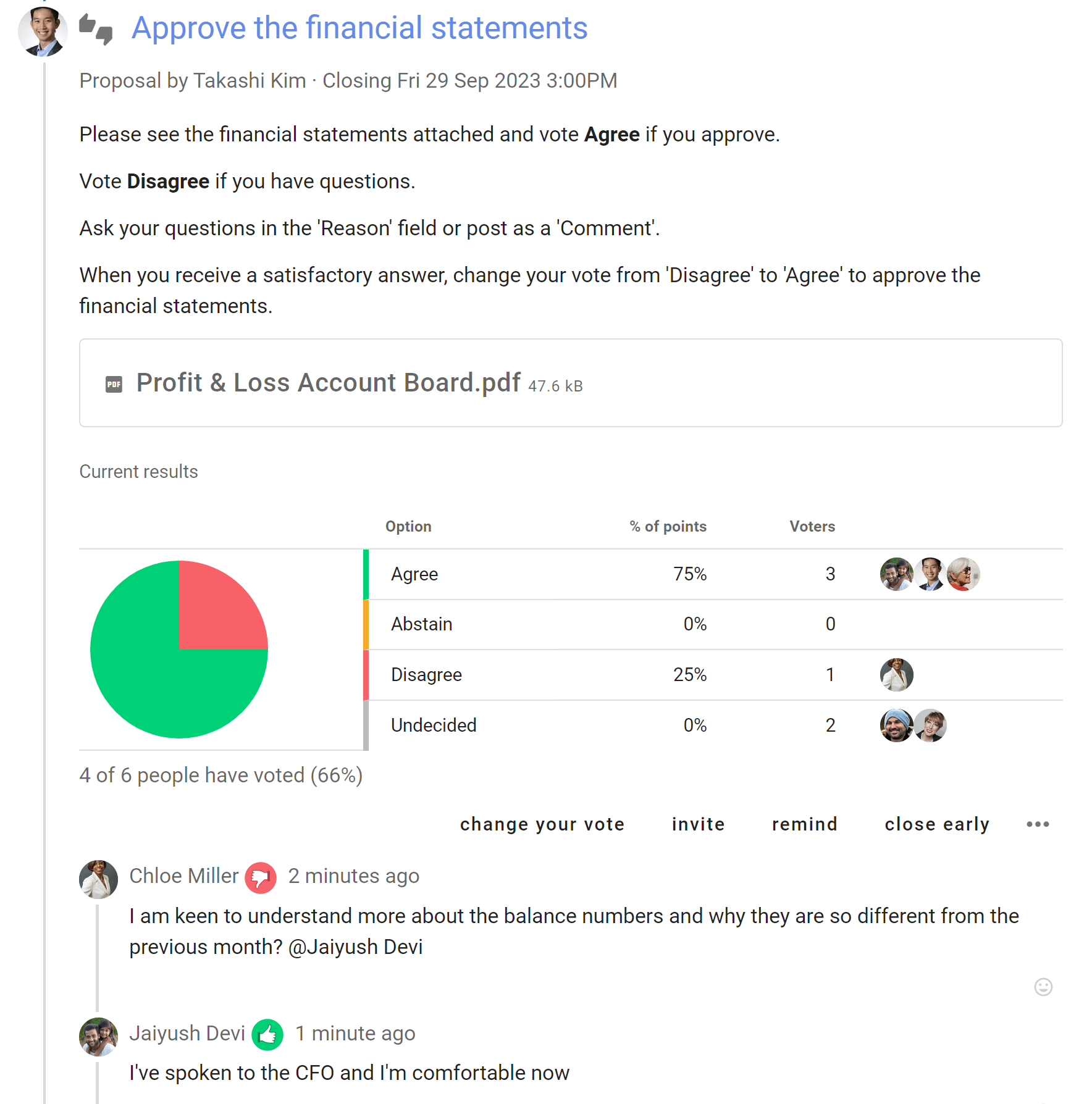 If your meeting practice requires formal acceptance at the next meeting, schedule an agenda item to acknowledge and confirm polls and decisions made on Loomio, and record this in the meeting minutes.
For example; "Does anyone wish to change their votes in Loomio? If no, then let's resolve to formally approve polls made in Loomio during the last period."
At times topics arise that require the attention of board or committee members mid-cycle, between meetings.
And sometimes there is just not space during a meeting for discussion or to sufficiently deliberate on a decision.
Use a Loomio thread to facilitate a discussion. Give the thread a descriptive title that members will recognize and provide details in the thread context. Add a relevant category tag to help members find the thread in future.
Notify members of the thread by inviting them, so they will receive a copy of the thread by email. Members can participate in the discussion by clicking on the link to go to Loomio, or reply to the notification email and their comment will appear as a comment in the thread.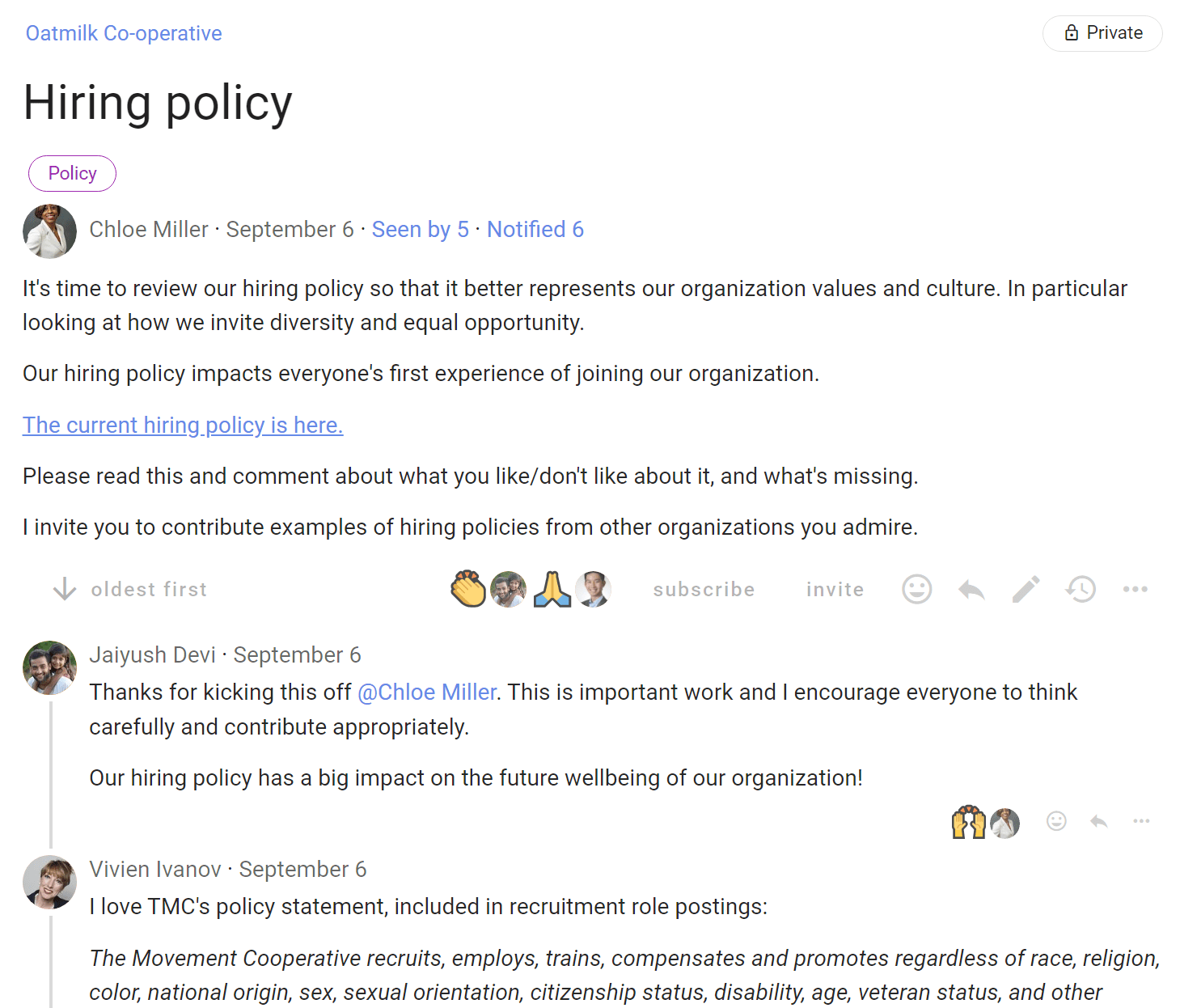 A Loomio thread enables you to attach files or link to online resources to support the discussion.
Common examples include:
review and develop a policy
seek advice from the board about a topic or issue
discuss strategy
explore an idea or opportunity
assess risk
A lot can happen in an organization between meetings, and most people rely on email to alert board members. Trying to keep track of a discussion on email is tricky, with replies often lost in in-boxes and people left out.
"You can't do governance by email!", Richard Westlake (Westlake Governance).
When an issue arises requiring board attention, use a Loomio thread rather than email. Members can reply via email and their comment will appear in the Loomio thread, keeping the discussion in one place.
Here's how:
Make the email subject line the title of your thread,
write your email content in the thread context,
invite your team to the thread with their email address or Loomio user name.
A Loomio thread means that:
All info about a topic is organized in one easily accessible place,
people can respond without generating reply/reply-all email chains that risk leaving people out,
you can see who has read the message and who needs a nudge,
you can progress actual work to an outcome, and cut down on the amount of email.
When an agenda item cannot be resolved within the time available in your board meeting, you can move this for further discussion to Loomio. Direct people to the relevant thread, or start a new one and notify your board members.
This relieves pressure on your board, allows more time for information gathering, discussion and deeper reflection which often results in a better quality decision.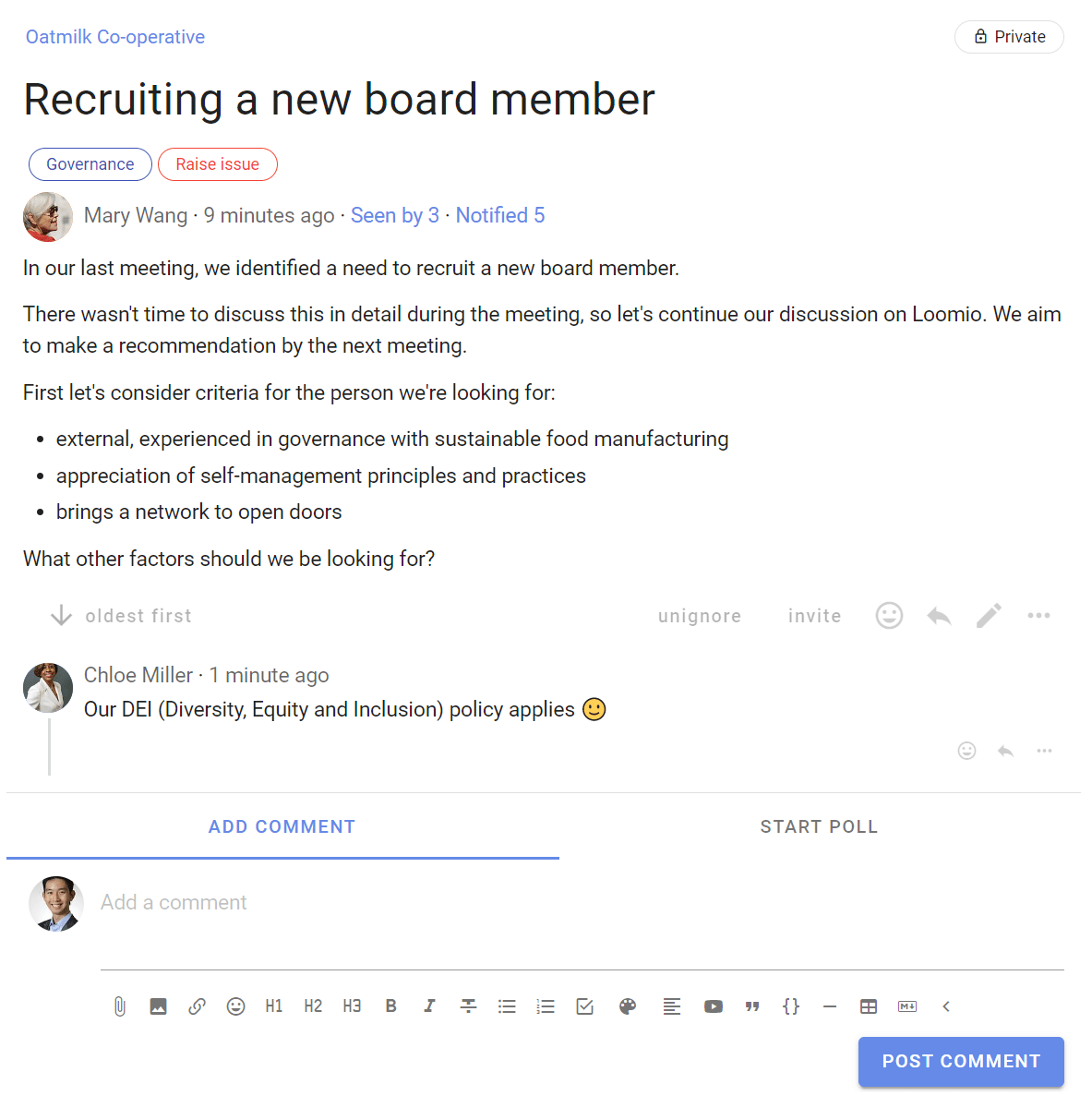 Board and committee members frequently need to make 'out-of-session' decisions. These are governance decisions and discussion where either;
There was insufficient time to make a decision in the board meeting,
the decision does not require a lot of discussion (including administrative decisions),
something has happened (internally or externally) that requires the board to act before the next meeting,
a director has a particular interest to explore with the board.
Start a thread and open a discussion:
Introduce the topic or decision that you would like to make,
invite directors to comment with their thoughts, opinions and any information they have to help everyone understand their perspective about the 'out-of-session' topic or decision,
encourage members to participate by posting or reply to comments.
When ready, raise a poll and invite members to vote. If the issue is straightforward use a Proposal or if the issue is more complex use a Sense check poll to clearly ask fellow members how they feel about the proposal.
State the decision and invite people to vote,
ask people to leave a reason for their vote, particularly if they want to qualify any points,
choose the decision options that work for your board's decision-making processes.
You can ratify and minute the 'out-of-session' decision at your next board meeting.
It's not a failure if a decision does not get agreement. You can ask members what changes they would make to enable them to agree to a decision. This helps you build to a better decision. A new Proposal with amendments is then more likely to achieve agreement.
State an outcome when the proposal closes. Let everyone know the result of the decision and what will happen next.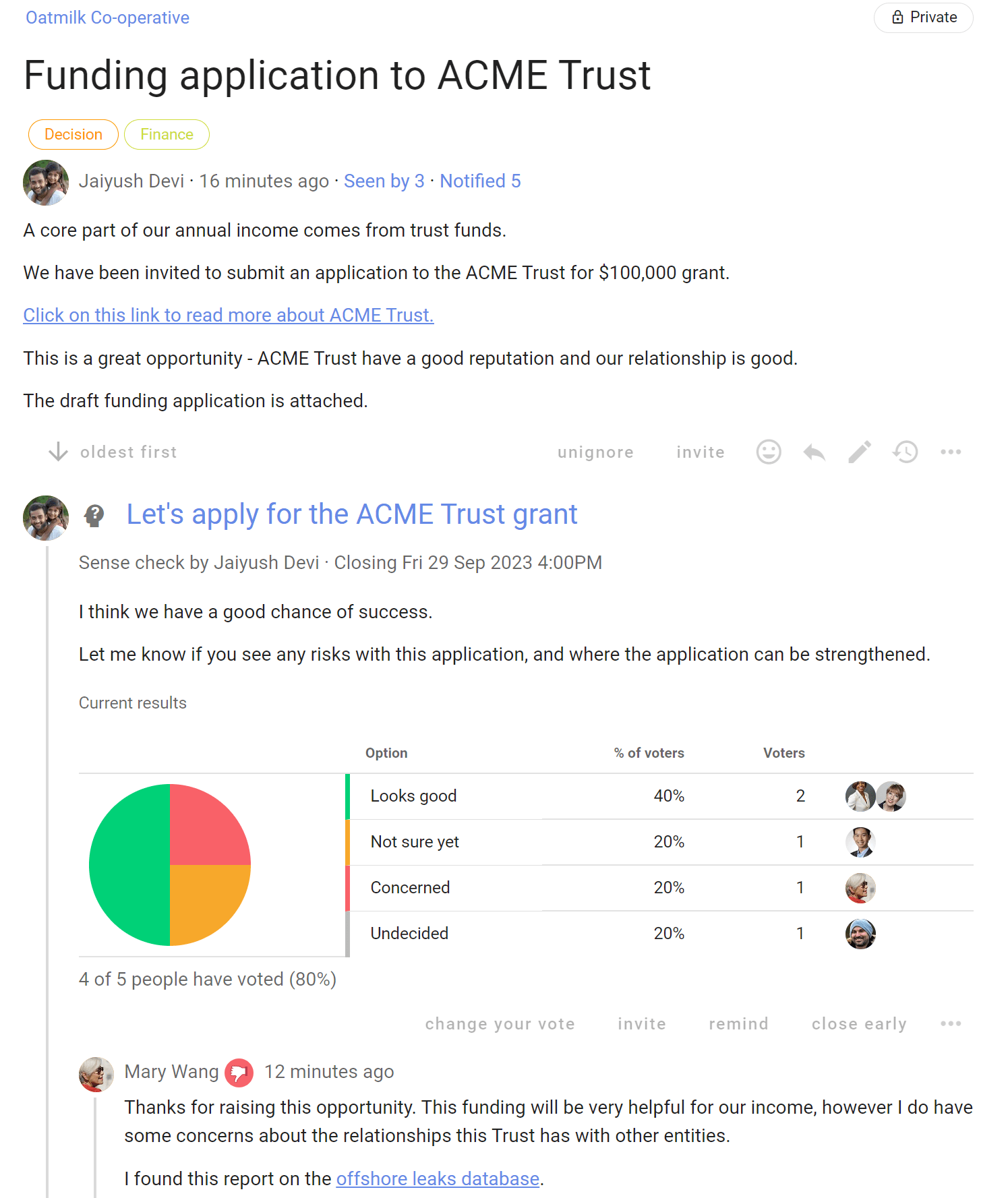 At the last board meeting, a property purchase was discussed. A director required an independent engineering report before making the decision. At the board meeting, the board agreed to purchase the property subject to a satisfactory engineering report. However as the purchase must be made before the next board meeting, the board agreed to upload the engineering report to Loomio when ready, for discussion and to make the final decision for the property purchase on Loomio.
During the board meeting it was noted that the annual insurance renewal was coming up. As this was considered to be an administrative matter, the board agreed to use Loomio to discuss the renewal application, seek the required information from each director, submit the application and to accept the insurance renewal quote.
A break-in and theft of property has occurred that has put the corporation and staff at risk. Directors must be made aware of the event and risks, and evaluate an appropriate response.
The director has provided good reasons and evidence that the board should diversify membership to be more representative of the corporation. Directors need to digest the information, ask questions, discuss the issue and decide a response.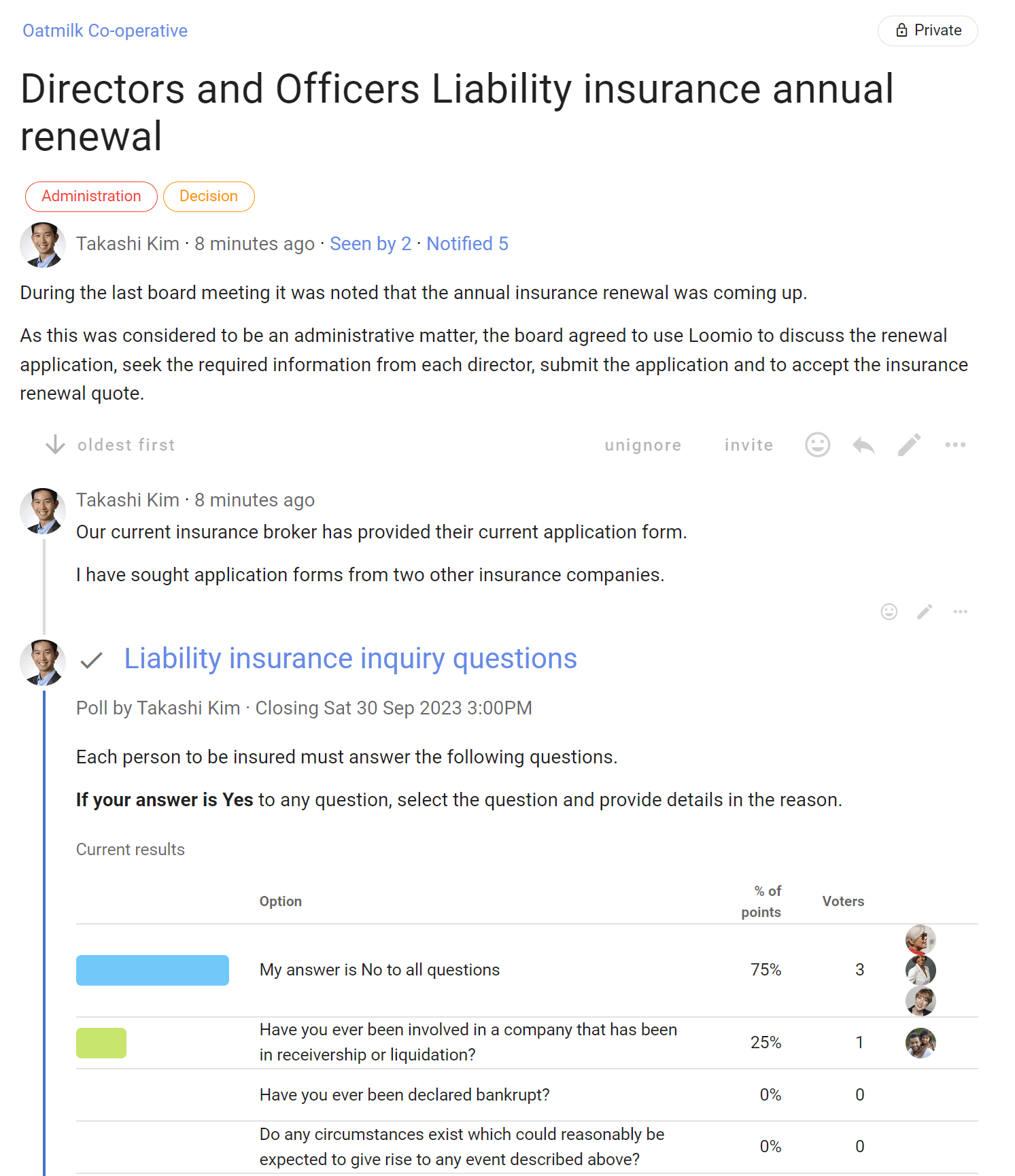 Record keeping is a legal requirement for governance boards and good practice for committees.
Today, many organizations record and store formal minutes, resolutions, policies and key decisions electronically. Document records are created and approved, distributed and used, retained and stored, and ultimately disposed of.
Minutes, reports, resolutions and other documents can be attached to a meeting thread, in the thread context, within a poll or any to thread comment. This means the documents are always associated with the relevant discussion.
A list of files can also be found under the Files tab.

You can also add a link within any thread or poll to a document stored in your preferred document management system. Find the online shareable link to the document, copy and paste into your thread, poll or comment.
Anyone with permission can then click the link to open and read the document.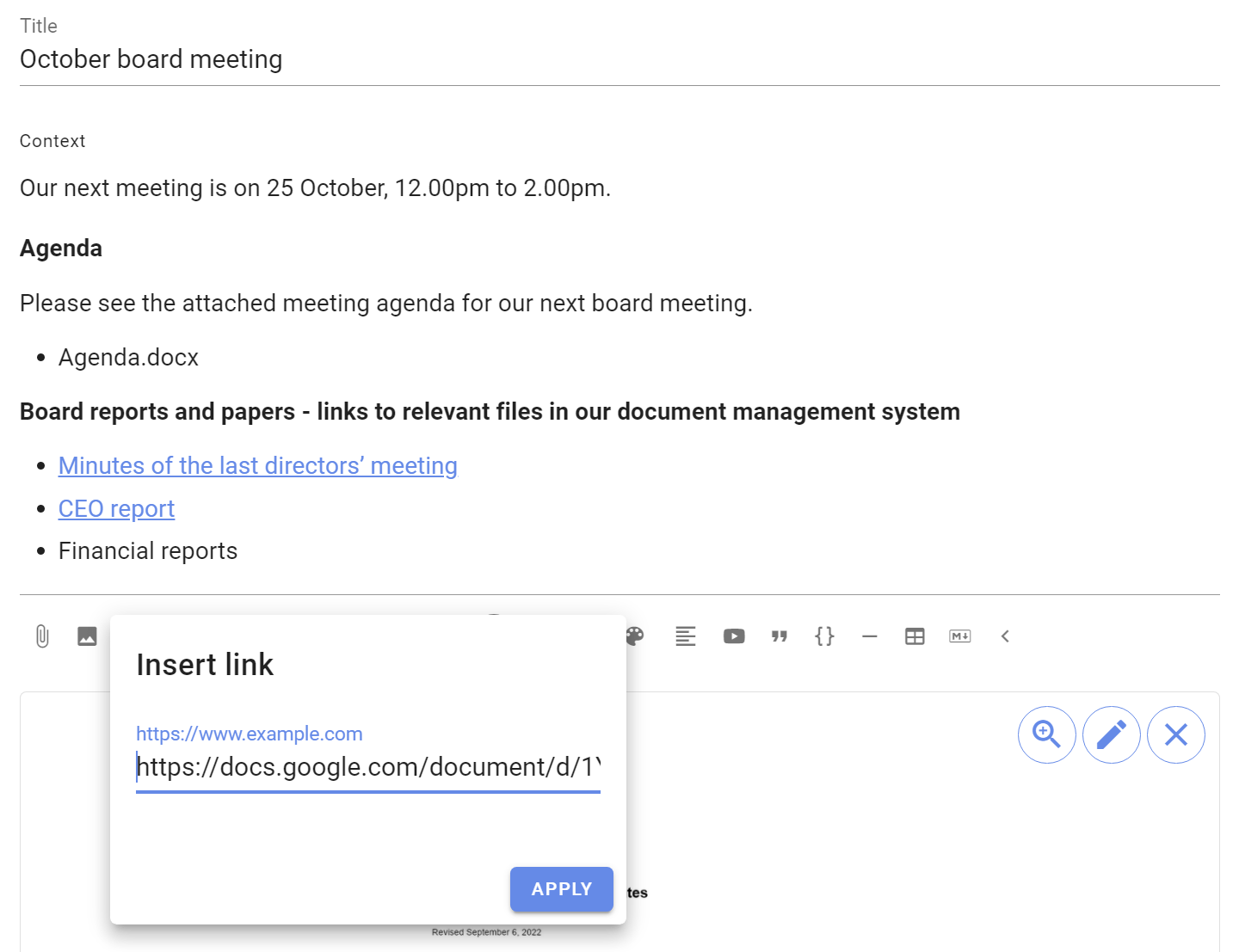 Because Loomio discussions and decisions are always already documented, it provides a robust way to verify all your board's decision-making. You can easily demonstrate what was decided, and when. If directors have discussed and commented, as well as voted on a resolution—you will also know how and why each decision was reached.
Over time, you are creating a history for your organization where you can easily search and find past decisions and related discussion.

In Loomio all data is written and stored on multiple disks and multiple locations, in the cloud, backed up daily. Files uploaded are stored on servers that use modern techniques to remove bottlenecks and points of failure.
Good governance includes establishing, reviewing and challenging governance practices, policies and procedures to continously improve board effectiveness.
However many boards are short on time and often weighed down by board papers, compliance and risk, without sufficient time to discuss and debate critical strategy and performance issues.
Loomio offers the opportunity to work online on a document, policy or procedure. Discussion and decisions are contained in a thread that members can access when and wherever works for them.
Use a thread for each document, policy or procedure. The thread is the container for discussion, and holds document drafts and subsequent versions of the document.
With a Loomio thread, you can organize so that the 2-3 people working on the document text are discussing particulars in the thread. The thread could be private amongst just those 2-3 people, or run openly in the group so that the work is transparent to all members.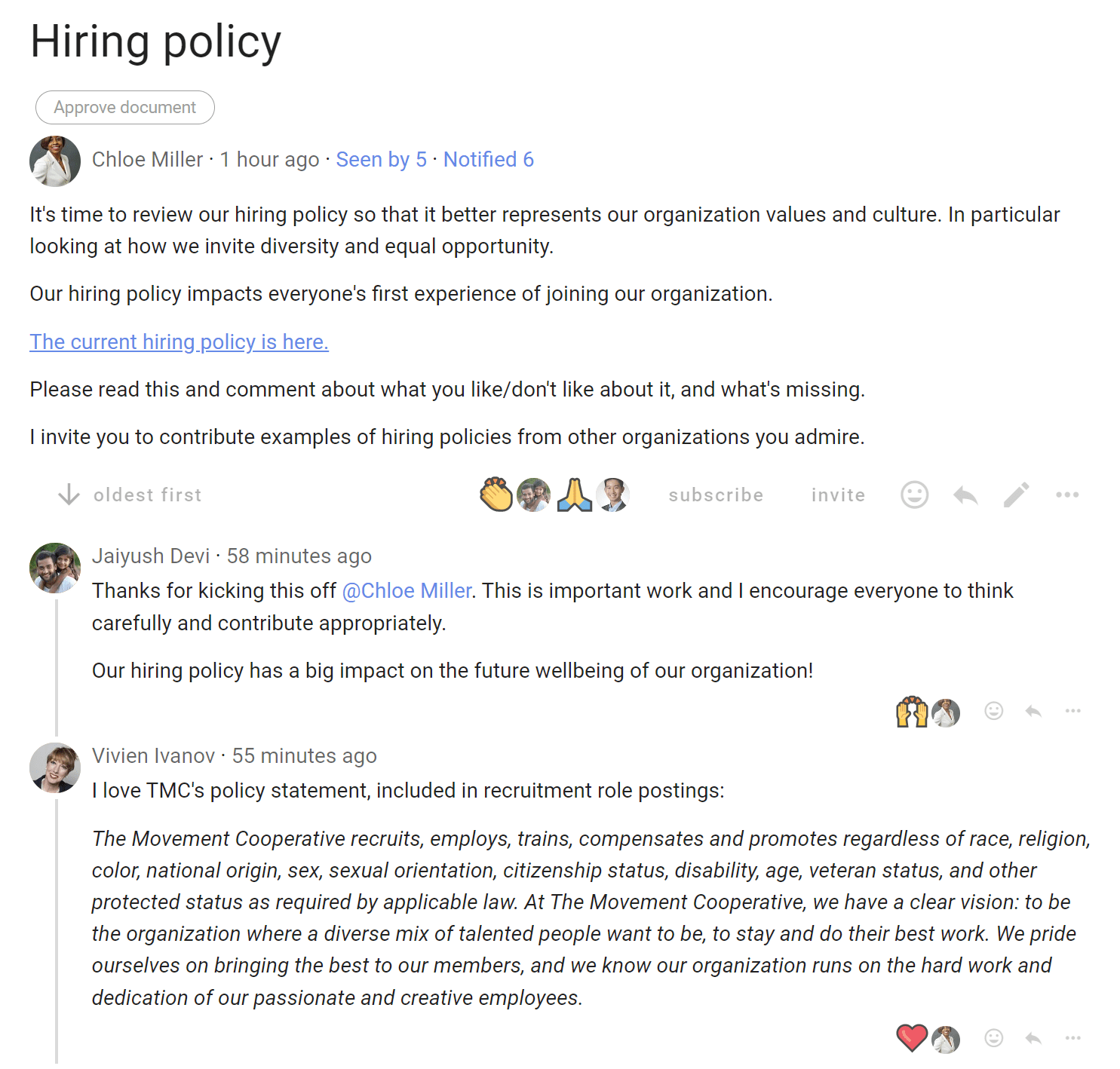 When the document reaches a draft version, use a Sense check poll to notify members that the draft document is ready for review, and invite members to read the document and respond with any comments or questions. As well as letting everyone know that the work is progressing, the poll closing date encourages people to participate.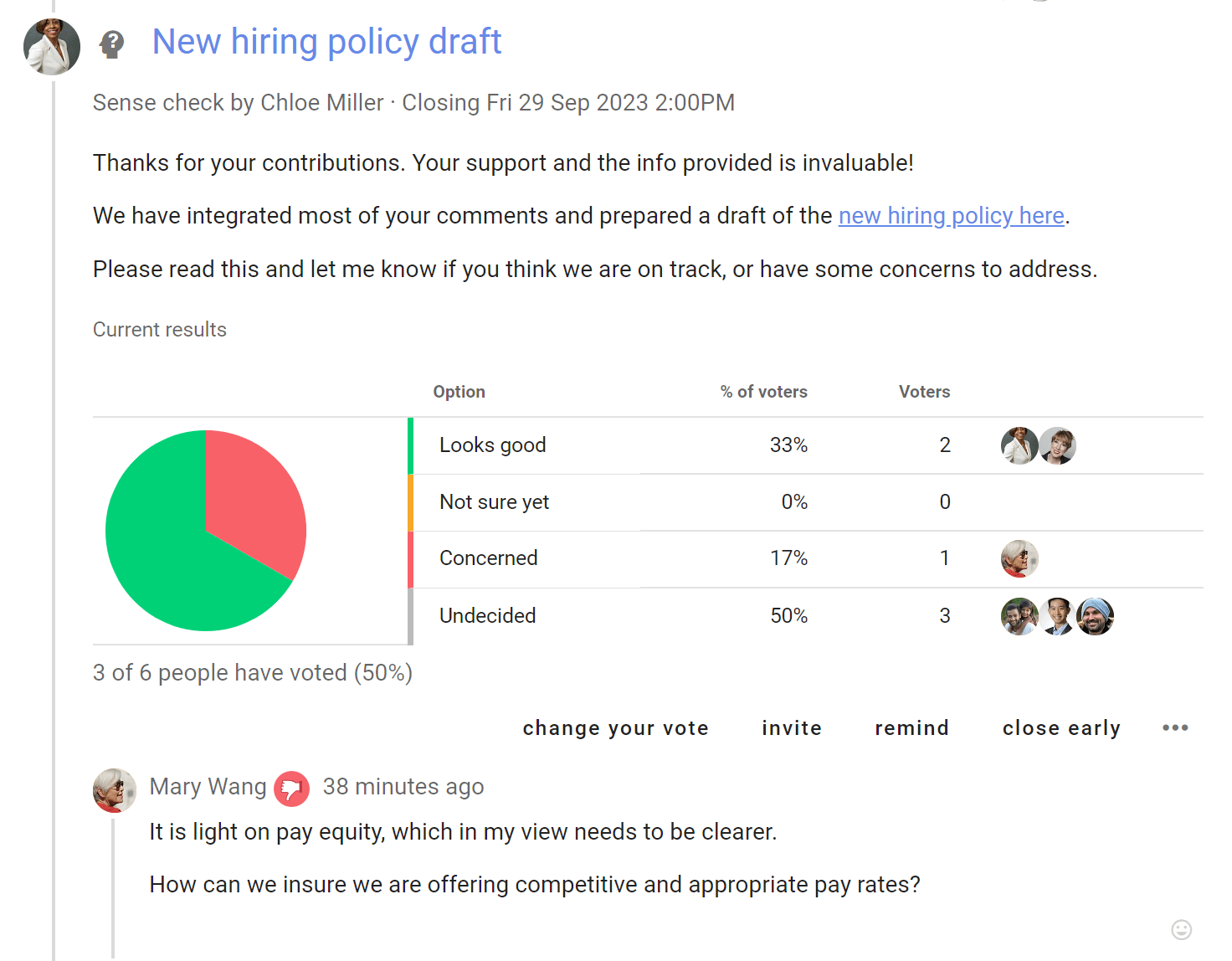 The document may require several draft iterations.
When a 'final' draft is ready, raise a Proposal to approve the document.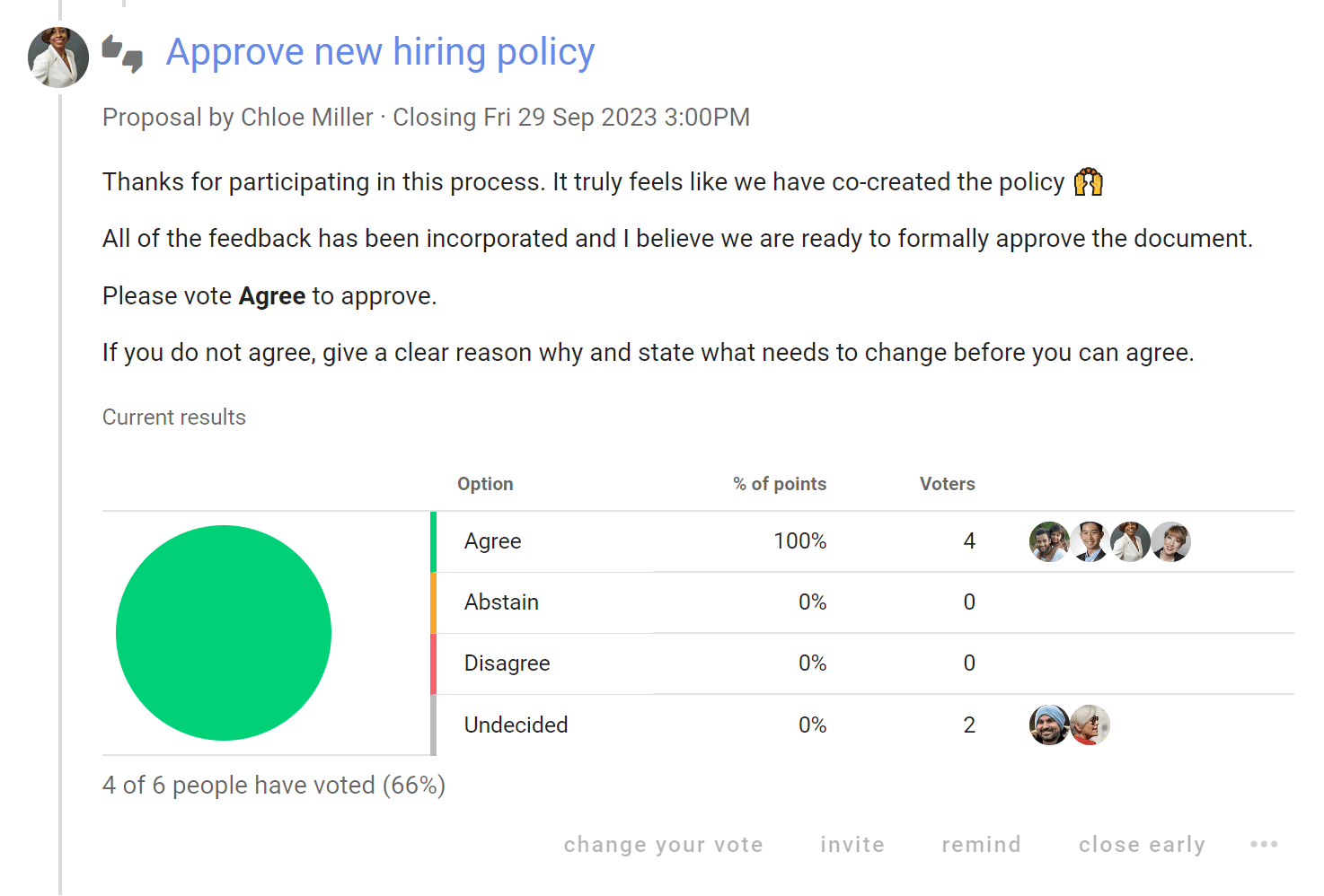 Loomio enables a board to progress work on governance improvement between meetings without eating into precious time in meetings.
---
Good governance exists where an organization has systems and processes in place that are appropriate to its circumstances, and which enable the organization to pursue its purpose effectively and meet its obligations under the law.
"It is participatory, consensus-oriented, accountable, transparent, responsive, effective and efficient, equitable and inclusive and follows the rule of law." United Nations Economic and Social Commission for Asia and the Pacific.
Underpinning all of these principles is the need for good communication.
Here are some or the challenges directors and boards experience:
Getting directors together in person
Time available to consider important issues
Urgency of critical issues
Online video meeting fatigue
Directors in multiple, remote locations, sometimes with poor internet connectivity
Mixed governance practice and experience
Dealing with high volumes of transactional business
Loomio offers an opportunity to strengthen governance, to extend collaboration beyond board meetings, to include everyone in open, honest and respectful discussion while documenting everything.